Too often, it is easy to get caught up in things outside of ourselves. When we find ourselves overwhelmed, stressed, or just plain overextended, it is an indication we are out of balance. This is a perfect opportunity to take a breathing break to calm and center our self and then to schedule a date with our self to do something that makes us happy. Perhaps walking on the beach, running in a park, reading a book, watching a movie, taking a hot bath, or sharing coffee/tea with a good friend brings you joy. Whatever it is, find your happy place and make time for yourself at least once a week!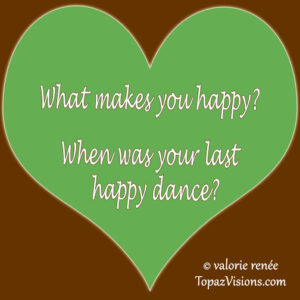 What makes you most happy, and when is the last time you did it? We have to make commitments to, and make time for, ourselves. Loving ourselves allows us to be better human beings. Being happy allows us to bring more joy into this world we share.
When we give ourselves the gift of loving ourselves and creating happiness, we shift the energy around us to a lighter state of being. Light illuminates darkness. LOVE transforms fear.
As we consciously choose to create more light in our lives, we allow the energy of LOVE to assist our healing and spiritual growth. Embodying greater light and LOVE, we become the light for others in our lives, and God works with us, and through us, in the magnificent ripple that carries forth from the pebble of our LOVE and happiness.

Our families, our communities, the collective consciousness, and Mother Gaia all need our happy dances!!! Choose LOVE now and find your happy!

LIVE LOVE
Sending you LOVE, valorie