Our breath is so very important to our being.  Obviously, without it, we would perish.  The breath, and how we breathe, tell us so much more about our state of being than we may consciously realize.  Check-in with yourself and your breathing patterns now, as you take your next breath.  Feel how the breath moves in your body.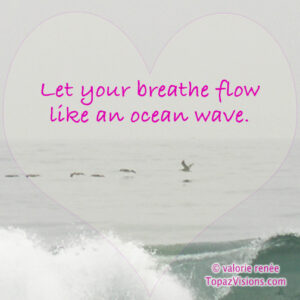 How full or constricted is your breath?  Are you relaxed or is your body tight?
Do you breath deeply throughout your day?  How well do you manage the day's stresses?
Is breathing an effort or does your breath flow easily?  How do you move through your moments, whether positive or negative?
Our breath guides us in tuning in to our body and our being.  Our breath guides us in our healing.
Breathing deeply and regularly assists our body in releasing stress and in relaxing our body, mind, and spirit.  We can use our breath to let go of old thoughts and old energies.  We can use our breath to revitalize ourselves.  We can use our breath to ground ourselves and to bring ourselves to our centered place of being.  Our breath determines our life's flow.  Breathing deeply allows the fullness of our breathe to create a fullness of our experience of life.  Deep breaths create a flow of energy to support us each and every day.
Deep, cleansing breaths = Calmer, empowered being.
Think about it, as you take three deep, cleansing breaths now.
With the first…  Breathe stillness and fresh energy in to your being.  Release stress, worries, and anxieties with your breath as you exhale.
With the second…  Breathe in peace and vitality as you inhale.  Release everything else as you exhale.
With the third…  Breathe in LOVE and faith.  Release and surrender as you let the breath go, allowing everything to be as it is.
Now repeat this process once an hour to reset yourself and to create a healthy pattern for your breath, your body, and your life, as you breathe deeply, gently, and slowly.
LIVE LOVE
If you'd like a short guided breathing meditation to follow, I have two, five-minute meditations you may find helpful at: https://valoriesmeditationstation.com/2011/01/14/guided-breathing-meditation/ and https://valoriesmeditationstation.com/2012/01/03/faith-guided-breathing-meditation/ .  Enjoy!
Sending you LOVE on your journey, valorie