Happy Summer Solstice! Solstice is a perfect time for getting fired up and stepping into your light, following your passion, and beating the drum and rhythm you are here to sound.
Open your heart, choose LOVE, and make every moment count!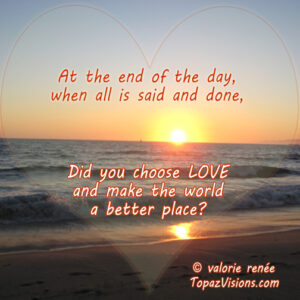 Choosing LOVE means choosing compassion… choosing forgiveness… choosing gentleness… choosing tolerance… choosing acceptance… choosing non-judgement… choosing kindness… choosing patience…  In choosing LOVE, we learn to embrace ourselves in LOVE, as we also embrace in LOVE those God places in our path.
We choose, each moment, whether consciously or not, how we approach and how we respond, or react, to everything.  We either extend LOVE or we withhold LOVE.  When we are extending LOVE, we are acting in LOVE's energy.  When withholding LOVE, we are caught up in the energy of fear.  Extending LOVE is easy to spot, as it feels good, compassion, acceptance, forgiveness, non-judgement, etc.  Our heart is relaxed and open; our being light.   Withholding LOVE manifests as anger, resentment, dismissal, judgement, coldness, etc.  Our heart may feel constricted and sad; our being heavy or weighted.
There is a clear vibrational difference in LOVE versus fear, and we know it instantly.  If we are not feeling light and open, it is time to examine whether or not we are choosing LOVE in our thoughts, our behaviours, and our actions.  We may enjoy those places where we are in alignment and remedy those places that need healing and work.
So, to LOVE or not LOVE, that is the question.  I choose LOVE.  What do you choose?
Sending you LOVE, valorie
LIVE LOVE