Hello Beloved,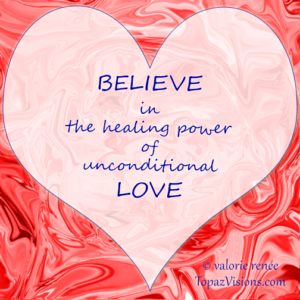 The energy of true LOVE heals.  True, unconditional LOVE is Sacred LOVE and is Holy and Divine.  It heals with the accepting, non-judgmental, uplifting energy of purity and wholeness, and the vast infinite radiance of Divine True Source. Some call this God's Light and LOVE, this Holy LOVE.
Sacred LOVE is our birthright. We do not have to earn it or deserve it.  We only need to connect to it and bring it fully in to our heart, body, and being, bringing ourselves to life with LOVE and Light.
It may take a little work to feel this LOVE fully and to open completely to LOVE, to live life and express ourselves from this LOVE ~ the work of forgiving ourselves and accepting ourselves, and as we do this, forgiving and accepting others; the work of choosing LOVE if (or when) we feel ourselves acting or thinking outside of LOVE; the work of letting LOVE guide us in creating healthy boundaries in our bodies, our relationships, and our lives; and the work of reinforcing our connection to this Sacred LOVE each moment of each day as we Choose LOVE now over fear. Know it is okay that we may slip at times in this world we inhabit and we can come right back to LOVE when we notice we left it.
Be in the world with Sacred LOVE rather than of the world with fear. LOVE heals what fear kills. Let LOVE bring you out of your anger or sorrow to a place where you can take action with the powerful energy of LOVE backing you as you speak up or work out in what you are guided to communicate, change, or create. LOVE is our Superpower and here to teach us, to guide us, and to lead us when we open fully and align our hearts in embodying and expressing its radiant healing energy of the Sacred Holy Divine.
Join me and connect now to this true, pure LOVE…
Breathe in now the Sacred LOVE and LIGHT of True Source deeply and gently to your heart, body, and being. Release your breathe and any thoughts, feelings, or energies that go with it.
Breathe in Sacred LOVE and LIGHT again fully and deeply and hold this in your heart, body, and being for as long as you feel guided. Release the breathe and all that goes with it.
Breathe in again fully and deeply; holding Sacred LOVE and LIGHT in your heart, body, and being; and release again gently and fully.
Breathe, Release, Repeat… as many times as feels best to you, and whenever you want to unplug and reconnect your Sacred Self and Heart.
LOVE is the way. Believe in it. Breathe in to it. Bless yourself and your life, those around you, and our entire collective world and universe with LOVE… simple, pure, true LOVE.
From my heart to your heart, this eternal moment and always… sending LOVE, Valorie
❤️ LIVE LOVE ❤️